How Do I Keep My Van Secure?
Making sure that your van and all of your possessions inside remain safe while unattended is a top priority and a huge concern for every van owner. Unfortunately, opportunistic thieves are always lurking, so you need to protect your van as best as you possibly can when you're not around. Vehicle criminals will always look for 'soft targets' that might offer a big reward which, with the combination of valuable tools and often-poor security, makes van theft a top target.
To help combat this, we have gathered some useful tips that you can use to beat the thieves that will make your van more secure, harder to steal from and could even lower your insurance premium.
Get The Basics Right
This might be teaching you to suck eggs, but it is important to do the simplest things first and then build from there. Opportunistic thieves will be waiting for you to make a basic mistake such as leaving your van unlocked or leaving the windows down. Even if you are just popping into one of the smaller 'Metro' or 'Local' shops, it is essential that you not only lock your van, but also check that it is locked.
Some thieves create their own opportunities by using devices that block the signal from the key fob to lock the van, leaving you thinking that your van is secure, when it is anything but. Take an extra couple of seconds to pull on the door handle to ensure that you have definitely locked your van.
Even when your van is locked, thieves will want to break in if they have seen something valuable that they can steal. Whenever you leave your van, you should make sure that nothing valuable is left in sight and you should always take the keys with you.
In an ideal world, you would park your van in a locked, alarmed garage overnight, but that is just not realistic. Vehicle thieves always want to operate in quiet secluded areas, so you should always park your van in a busy, well-lit area to provide a location-based deterrent.
Upgrade Your Van's Security

Doing the basics will only get you so far when it comes to securing your van from thieves. If you are serious about security, you will need to invest in suitable deterrents, such as immobilisers and alarms. Check our van security systems page to see how can we make your van more secure.
An immobiliser will cut off the electrical supply and prevent the engine from starting. While most new vans are fitted with immobilisers and alarms as standard, you could consider upgrading them to Thatcham 1 standard so that they are as effective as possible. As these security measures are invisible, you should let everyone know that your van is kitted out with them to warn off potential thieves.
Deadlocks are also available as standard on some vans, and can be added as an optional extra, or fitted to an older van. They are additional steel locks that work independently from the standard door locks. You could also invest in Slam locks that automatically lock the door as soon as it is closed.
On the inside of the van, there is a range of equipment you can choose to buy to help prevent your van from being targeted or having anything stolen from it. Thieves will often look for vans that don't look protected; as a result, you could use a steering or handbrake lock. While i might not be 100% effective, it would certainly slow a thief down and increase their risk of breaking into your van.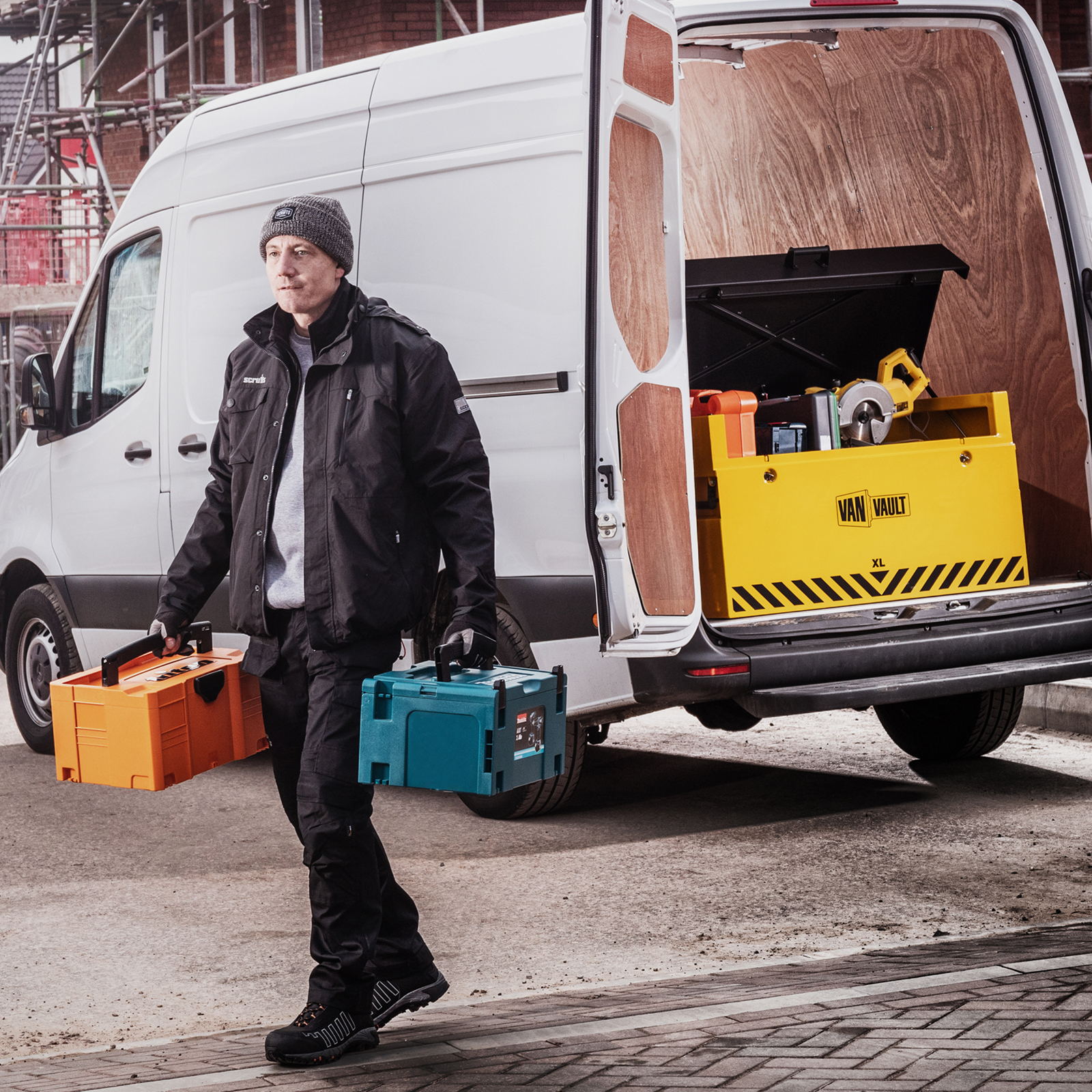 Similarly, fitting mesh grilles on load-bay windows makes your van look harder to break in to and increases the time that a potential thief will have to spend getting into your van.
If you are unfortunate enough to have your van broken into, you could fit a secure van box to safely store any tools inside. Bolted securely to the inside of your van, these boxes are like high-tensile steel safes with anti-drill locks.
Sometimes the easiest way to steal your tools is to steal your van and take it to a more secluded area. In this instance, it is highly unlikely that you will recover any equipment, but it might be worthwhile fitting a GPS tracker so that you can at least recover your van.
Having your van or equipment stolen is always a possibility, but that doesn't mean you can't be covered or prepared by having a comprehensive insurance policy. You should ensure that your insurance covers Goods in Transit, personal belongings and professional equipment.
Top Tips For Keeping Your Van Secure
Having your van or tools stolen can cost you thousands, not only in lost equipment, but also in lost business. For every day that you don't have all of your kit, or a van to get you to and from jobs, you are losing money, so it is important to be as vigilant and safe as possible. Here are a few of our top tips to try and stay one step ahead.
Sometimes it is impractical and other times it's impossible, but whenever you can, it is advisable for you to remove your tools, stock and equipment from your van overnight. If you are able to do this, you should advertise it with a 'no tools kept in this van overnight' sticker to act as a deterrent and make your van a less desirable target.
Choosing the right place to park-up on a job and overnight could be a big help in avoiding theft. We've already advocated parking in busy, well-lit areas, but you should also consider parking with your side loading door to the kerb. This prevents any thieves from being able to park up beside you and empty your things directly into their vehicle. Similarly, where possible you should park up against walls so that it is difficult or impossible to access any of the loading doors.
Finally, you should keep an up-to-date record of all the equipment in your van in the event of it being stolen. In addition, if you have high value items, it would be worthwhile keeping the receipts for them in case you need to make a claim on your insurance and need to prove you had these items. You could also security mark your tools with UV pens or professional engraving to make them easier to recover and harder to sell.