What Does Euro 6 Mean for Van Drivers?
Discover what makes a van Euro 6 compliant and the benefits of owning one (2022 update)

What is Euro 6?
Simply put, it's the latest standard introduced by the European Commission to regulate the level of pollutants released from the tail pipes of vehicle engines. Euro 6 aims to reduce the levels of harmful emissions, including; nitrogen oxide (NOx), carbon monoxide (CO), hydrocarbons (THC and NMHC) and particulate matter (PM) - which is basically visible soot produced from diesel engines.
Euro 6 standards replaced the previous set of standards, known as Euro 5. The difference between the two is that Euro 6 further tightens the restrictions on diesel-fuelled vehicles, to ensure that less harmful gases are emitted from the engine into the atmosphere.
As such, different emission standards have been set for petrol and diesel engines. The permitted level of NOx emitted from a diesel engine has been drastically reduced by 55%, so for a diesel vehicle to be Euro 6 compliant, it cannot emit more than 80mg/km of NOx based gases. In contrast, a petrol vehicle cannot emit more than 60mg/km.
Since September 2015, commercial vehicle manufacturers have been required to ensure their vehicles meet Euro 6 standards. These are measured in an official test - which was updated in September 2017 - to a new official EU-wide emission testing system, known as the Worldwide Harmonised Light Vehicle Test Procedure (WLTP) for cars and LCVs.
Will Euro 6 change?
The current Euro 6 standard is due to change in 2025 when it will upgrade to a newer Euro 7 standard. It is expected Euro 7 will be the final iteration of the system before all new vehicles become zero-emission. This is so we can meet the UK Government's mandate when all car and van fleets are set to be fully electric and emit zero emissions by 2027.
The deadline for all other vehicles - such as motorcycles, buses, and heavy goods vehicles (HGVs) - has been extended to at least 2040 to allow for further product development and implementation.
What is the science behind Euro 6?
In order to reduce the NOx produced by diesel engines, extra technology has been developed so that new vans are able to meet the Euro 6 emissions standards. Three methods have been developed to ensure new diesel engines are compliant:
Exhaust Gas Recirculation (EGR)
EGR reduces NOx emissions by recirculating a percentage of the engine's exhaust gas back to the engine cylinders.
Diesel Particulate Filter (DPF)
​​More likely to be used in smaller vans, the DPF works by capturing soot particles in the exhaust gas which are automatically burnt under high temperatures periodically to regenerate the filter and maintain exhaust gas emissions.
Selective Catalytic Reduction (SCR)
​Most medium and large size vans - including pick-ups - use SCR which utilises a solution called AdBlue (also referred to as diesel exhaust fluid). This helps to convert nitrogen oxide into nitrogen and water.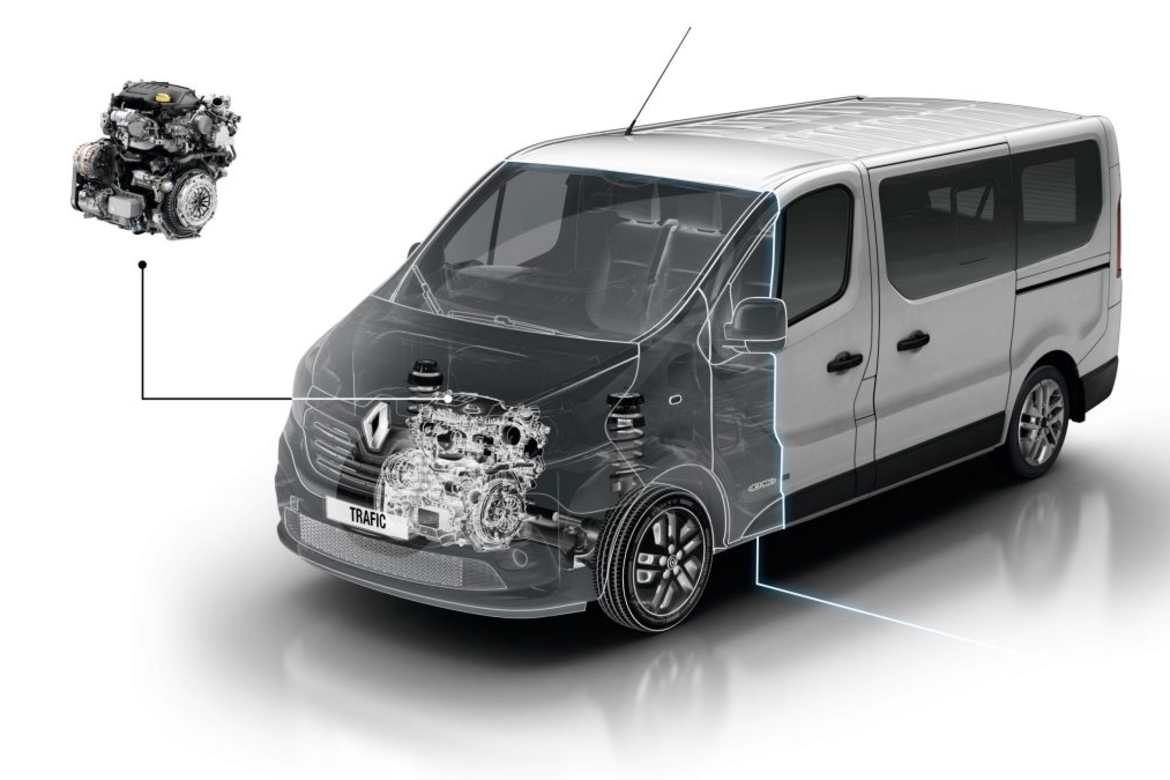 Why does your van need AdBlue?
As many manufacturers are choosing to use Selective Catalytic Reduction (SCR) technology to fall in line with current Euro 6 standards, your new or used van could require the addition of AdBlue to help keep it operating at its best.
To put your mind at rest, AdBlue is only needed for diesel-based vehicles. If this is the case, an extra tank will be fitted within your van's engine, to store the AdBlue solution in order for it to break down NOx emissions into less harmful nitrogen and water vapour. The tank is around 10-20 litres in volume and can take from 30kg up to 80kg of a van's payload.
It will be your responsibility to keep the AdBlue levels topped up and cover those costs - just like you would with engine oil and coolant. Prices do vary, but it typically costs from around 50p to £1 per litre and can be purchased from many retail outlets, service stations and dealerships across the country.
The benefits of Euro 6
Although it seems like you're going to be paying out more for a Euro 6 van; that really isn't the case. More refined engine technology means increased vehicle efficiency, which in turn means better fuel economy and less frequent trips to the fuel pumps. Euro 6 engines are typically more powerful than their Euro 5 counterparts as well.
The main aim of the Euro 6 standards is to reduce NOx, but its advanced technology also reduces CO2 emissions too. If you run a fleet of vehicles, decreasing your company's carbon footprint could also provide taxation benefits.
Consider too the implications of travelling within Greater London's Ultra Low Emission Zone (ULEZ), or similar clean air zones across the UK, such as Bath, Birmingham, Bradford, Greater Manchester, and Portsmouth. Vehicles that meet Euro 6 standards will not incur charges to drive within these low emission areas, whereas Euro 5 vans will.
*** Read here the latest news about the ULEZ expansion 2023 in London.
If you travel into ULEZ with a van that is not Euro 6 compliant, you will be charged an additional £12.50 per day. This means that vans travelling into central London during the business week could face an extra £62.50 per week, which adds up to a pricey £3,250 per year.
Find out if your van is ULEZ compliant by accessing a free ULEZ vehicle registration checker HERE. If you're heading into London and want to confirm if you'll be entering a ULEZ area or not, enter the postcode of your destination HERE.
Even if you don't travel to London on a regular basis (or at all) having a van that is not Euro 6 compliant is very likely to have a dramatic effect on the value of the vehicle. This is because you are limiting the market that the van can be re-sold to - i.e. no business that travels into London. A Euro 6 van will be worth much more at resale value than its Euro 5 counterpart.
Do you need to do anything to meet Euro 6 standards?
The simple answer is no. Euro 6 legislation only applies to new vans, so if you own a used van that is Euro 5, you won't be able to make any modifications to your current van in order to be compliant or upgrade it to Euro 6 standards. This is because Euro 6 vans have been in production by manufacturers for several years now, so the technology used is much more advanced than in older pre-Euro 6 vans.
Euro 6 vans at Loads of Vans
Here at Loads of Vans in North Cheam, Epsom in Surrey, we proudly supply vans to keep the nation moving!
We have over 400 vans in stock that are ready and waiting for you to drive away today and for ultimate convenience, nationwide delivery is available too - now that's an offer you can't refuse.
Discover the right Euro 6 van for the job and check out our huge range of vehicles from big-name brands, such as Renault, Nissan, Citroën, Peugeot, and Vauxhall. Here at Loads of Vans, we can also source any make and model required.
Whether you're looking for a new or used van, explore our HOT VAN DEALS and make sizeable savings on your next new four-wheel business partner today!
Here you can see our USED VAN stock and find your dream van.